Category: Privilege
(See also: all categories, featured articles, all articles. Sort by name, created, edited)
"When you're accustomed to privilege, equality feels like oppression."
—unknown source
"Quit whining, it's the same distance."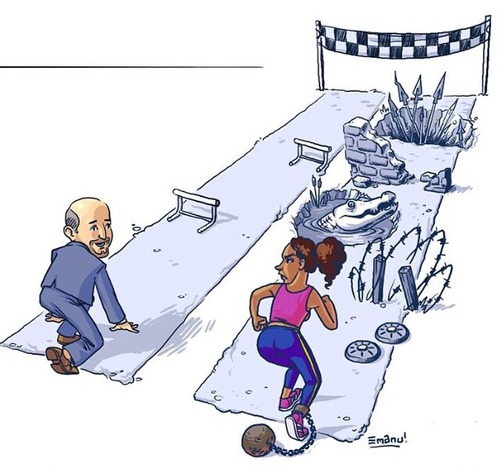 (Created by Emanu)
(Consider also the video further down this page which also uses a racing metaphor)
An excellent story in cartoon form here:
To my Jewish, Irish, Asian and Italian friends, let's remember:

Your ancestors were lower than dirt when they arrived here.

Italians were referred to – openly – as a subhuman race of rats and criminals.

Irishmen were apes and monkeys.

Laws were passed to keep Chinese women out of the country, so that the Chinese males who were brought over for menial labor couldn't produce offspring.

Jews were spat upon in the streets and routinely excluded from polite society.

Unhire-able. Undesirable. Laws were passed to allow for the mass discrimination and segregation of your great grandparents, not much more than a century ago.
A nice video about a simple running race:
When Eddie Murphy went undercover:
Articles (3…)