Kathleen Riethmuller is Missing
---
What happened to Kathleen Riethmuller?
October 28, 2021, Kathleen disappeared. Here's the national missing person's page — though it's light on details and can't even spell her name consistently: Kathleen Riethmuller | National Missing Persons Coordination Centre
Timeline of events
Final Unconfirmed Sightings
From a reddit thread (link in references):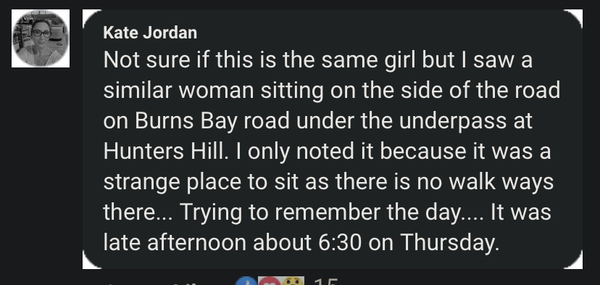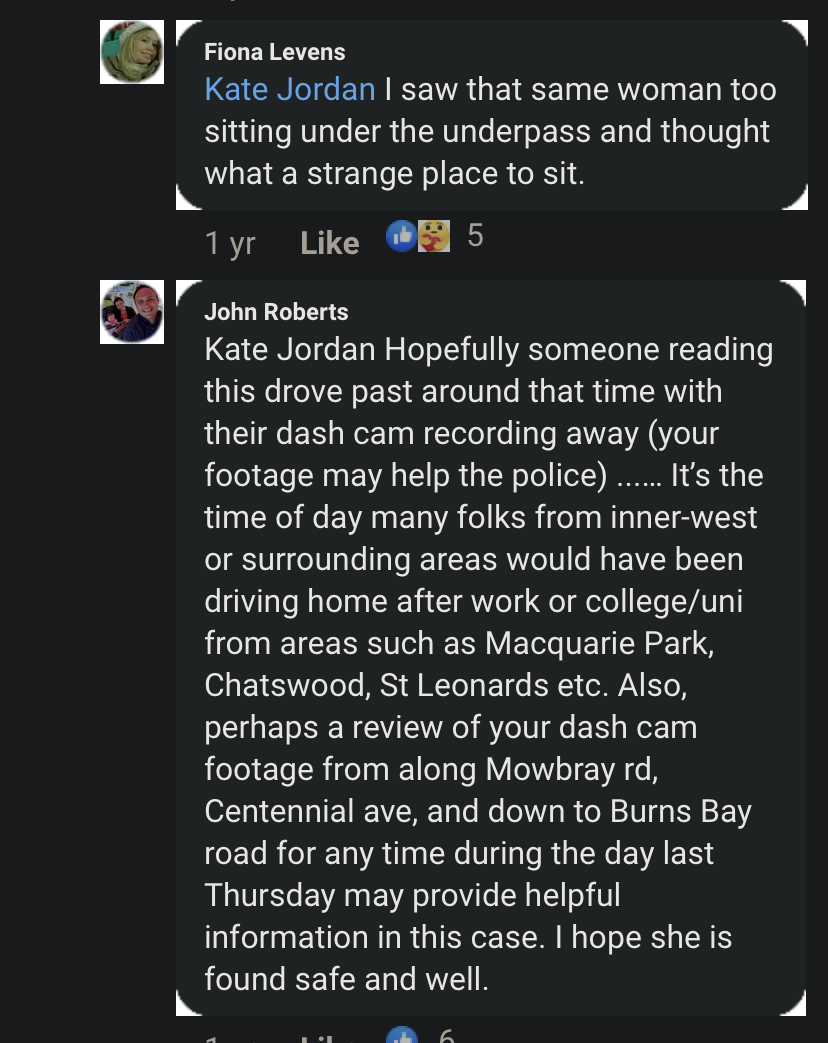 Theories
Deliberate change of identity
The police put forward a theory that she may have deliberately disappeared. 🤦‍♂️
I think there's various errors and misconceptions that allow them to think this, and I consider it very unlikely.
E.g.
The "disappeared on purpose" theory must explain the "checked into a hotel" and "bought rope" and "backpack and phone were stolen".
If the theory is extended to say that she did those things to "throw people off her tracks" or "create an impression that she was intending to commit suicide...." it is a very tenuous argument. Wouldn't it be easier and far more reliable, to create a suicide note? If we're saying she was acting rationally, in charge of her faculties, and deliberately did these specific things as part of a plan to disappear: you're deceiving yourself. The argument defeats itself.
Was it a blanket?
She looks sad and is carrying new blankets that come from the shop in home centre at Artarmon, clearly she was planning on sleeping with blankets somewhere.
Geo-Targeted SMS
Here's an example of the Geo Targeted SMS that was sent out to the Lane Cove Area: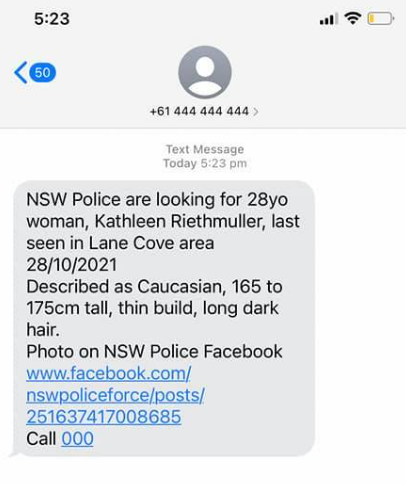 Aliases?
Ridiculously vague and mysterious wording from police here... why do they talk like this??
Ms RIETHMULLER is known to use the aliases Amy MUNROE, Kate RIETHMULLER, Margaret RIETHMULLER and Kate MULLER.

— Kathleen Riethmuller | National Missing Persons Coordination Centre
How and in what circumstances were those "aliases" used?
Grim Question
Can a suicide victim remain unfound?
A friend of mine committed suicide in 2017 by hanging himself from a tree, not even particularly high up. It was in a fairly secluded section of a public park with a lot of foot traffic. He was not found for almost eight months
Eerie reading that as something SO similar happened in my hometown! Even with a massive search, it took months. His car was even at the park, where they searched many times before locating him.
Social media accounts
Instagram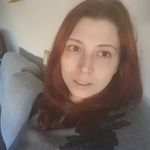 — instagram/kate_anne_r - 458 posts. 0 followers. 66 following. This Account is Private. - "Red Riding Hood - Sydney - Seeking self-aggrandisement & validation"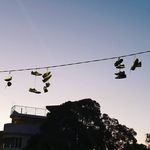 — instagram/photography_kate_r - 2 posts. 0 followers. 0 following. This account is Private. Kathleen Riethmuller.
References